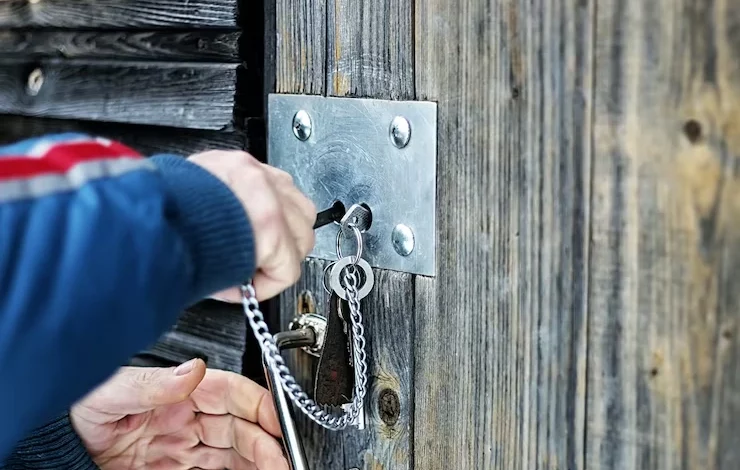 When you need a locksmith, you want someone reliable and trustworthy. But nowadays, spotting a legitimate locksmith can be quite the challenge. With so many "fly-by-night" locksmiths, identifying the real deal is essential. We've put together this guide to help you spot a fake locksmith.
We've all heard horror stories about fake locksmiths: outrageous fees, inferior services, and even identity theft. Fake locksmiths are a natural and growing problem; knowing how to spot them is essential.
Here are 5 tips on how to spot a fake locksmith: 
1. Check for credentials:
If you need a locksmith, it's essential to make sure you're choosing someone who is qualified and trustworthy. A professional locksmith will have the appropriate licenses and certifications. Be sure to ask to see these before allowing the locksmith to begin work.
When researching locksmiths, it can be tempting to go with the first locksmith you come across in your search. Unfortunately, not all locksmiths are legitimate, and if you choose the wrong one, you could end up with a fake locksmith who doesn't have the skills or expertise to do the job correctly. To avoid this, check for credentials before you choose a locksmith.
A legitimate locksmith will have the proper credentials, including licenses, training certificates, and insurance. These documents prove that the locksmith is qualified to do the job and has the knowledge and skills to do it correctly. When looking for a locksmith, be sure to ask for these credentials, and don't be afraid to ask questions about the locksmith's experience and expertise.
2. Ask for references: 
It's essential to research and finds a reputable and reliable professional. A good locksmith should be able to offer references from previous customers so that you can get an idea of the quality of their work.
Unfortunately, there are many fake locksmiths out there who are looking to take advantage of unsuspecting customers. You want to ensure you're working with a legitimate, experienced locksmith who will provide you with the best service possible. One of the best ways to do this is to ask for references.
A credible locksmith can provide you with references from satisfied customers. This allows you to talk to other customers who have had a positive experience with the locksmith. You can ask them about their experience, such as how long the job took, how much it cost, and if they were satisfied with the overall service.
3. Be wary of unsolicited offers:
It is essential to be wary of unsolicited offers from locksmiths. While having a locksmith show up at your door without being called or receiving a discounted rate may sound tempting, this red flag should be addressed.
It is important to remember that any service provider is expected to deliver quality services at reasonable prices. When a locksmith offers services at a significantly discounted rate, it could be a sign that they are not offering the same quality of service that you would expect from a professional.
Furthermore, if a locksmith shows up at your door without being called, they may try to take advantage of you in a vulnerable situation. They may need the necessary experience or qualifications to do the work correctly, which could cost them more in the long run.
If you need a locksmith in Oslo, we invite you to contact Beste Låssmed i Oslo today and experience our quality service. We guarantee you will be delighted with your experience and our professionalism.
4. Get an estimate in writing: 
Getting an estimate in writing from a professional locksmith is one of the most critical steps in ensuring you get the best possible service for your locksmithing needs. It can differ between getting a job done right and paying for costly repairs later.
At Fake Locksmith, we understand the importance of getting an accurate and detailed estimate in writing before any work is done. We offer our customers a free, no-obligation written estimate so they can make an informed decision about their locksmithing needs.
When you contact us for an estimate, one of our experienced and knowledgeable locksmiths will visit your property to assess the situation and provide you with a written estimate of the cost of the work. Our appraisals are detailed and can include any additional charges that may be necessary, such as new hardware or parts.
In addition to the cost of the work, we will also provide an estimate for the time it will take to complete the job. This information is provided so you can plan accordingly. We understand that everyone is busy, and we want to ensure that we give the best possible service with the least disruption to your life.
5. Be suspicious of meager rates: 
In the locksmith industry, a great deal can often be too good to be true. While it's tempting to take advantage of a fantastic rate offered by a locksmith, it's important to remember that if it looks too good to be true, it probably is. 
You may be dealing with a fake locksmith. Fake locksmiths are often unlicensed and uninsured; you may have a damaged lock. Sometimes, a fake locksmith may even scam you out of money. 
When determining if a locksmith is reputable, ask questions before hiring them. Check to see if they are licensed and insured, and ask for references. Moving on is best if a locksmith refuses to provide proof of licensing or insurance.
It's also essential to ensure the locksmith is from the area where you need services. Fake locksmiths have been known to travel to different cities to find unsuspecting customers.
Conclusion
It is essential to be aware of the dangers posed by fake locksmiths. By following the five tips outlined in this guide, you can better protect yourself from their deceptive practices and ensure you are working with a reliable and trustworthy locksmith who can provide you with the service you need. Thank you for stopping by! Be sure to check out our website for more information.