Technology
A Guide Creation of Custom Healthcare Software in 2023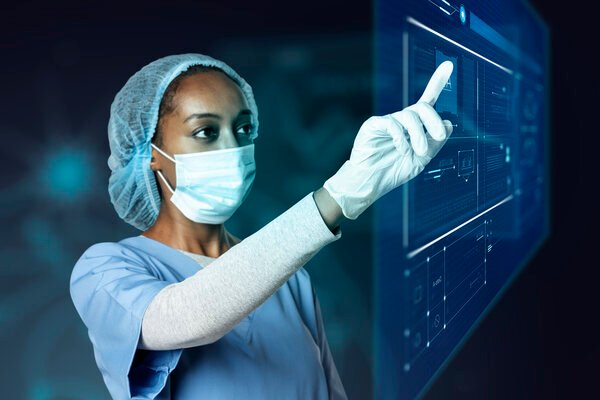 One of the largest sectors of the global economy is the healthcare sector. Now worth a thriving $7,975.87 billion, the global healthcare industry is projected to reach $9,816.85 billion in value by 2027. Any businesses that offer clinical services, assistance for the medical industry, and the creation of pharmaceuticals and medical devices are included in the healthcare market. Thus it makes sense that there is such a pressing need for specialised healthcare software development.
The Impact of COVID-19 on The Healthcare Industry
Every aspect of society has been profoundly impacted by the COVID-19 epidemic, and the healthcare sector is also feeling the shockwave. The pandemic started a three-phase reaction when it first spread, consisting of responding, recovering, and then renewing. Considering the pandemic's current stage and the many issues it has caused, the whole healthcare system has been severely impacted. Failures in the supply chain, personnel isolation, and the expansion of safety standards generally have increased concern in the healthcare sector.
The State of The Healthcare Software Development
Every element of our life has been changed by information technology. In order to store electronic health records, medical histories, patient personal information, and a vast array of other medical data, healthcare businesses naturally require healthcare software solutions. The healthcare industry was under extreme pressure as a result of the COVID-19 epidemic.
The experience of such a significant event in the post-pandemic period prompts us to reconsider the creation of medical software or mobile applications that will allow healthcare institutions to offer better facilities. The entire healthcare software industry is now leading a movement that will enable us to convert the archaic paper-based system into a digitised form that will unquestionably provide portability as well as an improvement in patient safety and make the sector more efficient with electronic medical records. The size of the worldwide healthcare analytics market is anticipated to increase from $23.51 billion in the year 2020 to $96.90 billion by the year 2030, with the forecast year alone witnessing a compound annual growth rate (CAGR) of 15.3%.
Recent Trends in Healthcare Software in 2023 and Beyond
Healthcare providers as a whole have seen the consequences of using software solutions, much like other industries that have been impacted by technological advancements. The software development process has seen the emergence of several patterns.
Here are some examples of these trends:
Telemetry and Distant Observation
The way for the employment of this technology in the future has been cleared by the FDA's authorisation to start using remote monitoring devices after the pandemic epidemic. This technology not only helps individuals who require medical care, but it also adds a component of greater quality and timeliness, allowing for the streamlining of medical procedures. By 2026 (CAGR of 12.5%), the market share for the worldwide healthcare telemetry market is anticipated to be $400.60 billion.
Telemedicine
According to a Merritt Hawkins study of 15 major cities, it typically takes 29.3 days for a new patient to make an appointment with a family doctor. This has prompted several hospitals to launch a telehealthcare service in an effort to improve the effectiveness of patient outreach. Telemedicine aims to reduce the need for patients to attend the hospital unless it is an emergency in this way, improving clinical workflow.
Artificial Intelligence and Machine Learning in Healthcare
Several healthcare providers have started using artificial intelligence to treat patients, which has improved the state of digital health. This aims to cut down on healthcare human mistake and lower the cost of medical services. By 2030, it is anticipated that the market for machine learning and artificial intelligence would reach a size of $194.4 billion. Artificial intelligence will likely be used in robotic surgery, fraud detection, early diagnosis, dosing error reduction, and other fields.
IoMT and IoT
The rise of IoMT, or the Internet of Many Things, in the field of medicine coincides with the growth of telemedicine and telehealth. This technology combines the use of a variety of wearables, including as EKG and ECG monitors, as well as certain mystical measurement techniques, such measuring skin temperature, blood pressure, and glucose levels. The industry has been further broken down into other sub-segments, including those for fall detection, linked imaging, remote patient monitoring, and medication management.
Technology for Organ Care Systems and Bioprinting
The fascinating new subject of organ care technology is now under development to enable transplant recipients live better lives. The method of making 3D tissue models from living cells is known as bioprinting, and it is one of the main features of this technology. With the use of this technique, it may be possible to produce organs that are exactly like the patient's own, dramatically lowering the chance that the transplant would be rejected.
Also, patients who cannot undergo conventional transplants because there are not enough suitable donors might employ bioprinting to generate organs for them. The industry of bioprinting had positive growth in 2021, growing to $1,189.0 million, and is anticipated to increase by a CAGR of 19.4% by 2030, reaching $5,873.0 million.
Augmented & Virtual Reality in Healthcare
The usage of augmented and virtual reality in healthcare facilities is expanding to enhance patient care. By generating immersive, lifelike settings that can be utilised for teaching, diagnosis, and treatment, these technologies have the potential to completely alter the way doctors deliver healthcare.
For instance, in surgery, augmented reality can be used to help doctors locate hard-to-see malignancies or direct needles into particular bodily regions. By putting patients in a safe setting where they may experience their concerns, virtual reality is also being investigated as a technique for treating phobias.
The Benefits of Developing Custom Healthcare Software
Healthcare firms may gain a lot from developing custom healthcare software. Custom software can assist to enhance patient care, boost efficiency, and save costs by being made to specifically meet the demands of a healthcare business. The following are some additional advantages of creating custom healthcare software.
The process of developing, building, deploying, and maintaining software for a particular group of users, tasks, or organisations is known as bespoke software development. Custom software development, as opposed to commercial off-the-shelf (COTS) software, focuses on meeting a specific set of needs. Because COTS focuses on a wide range of criteria, it may be packaged, professionally advertised, and distributed.
Custom Healthcare Software Development Versus Off-the Shelf Software
Which is better, off-the-shelf or custom healthcare software development, is a topic of constant discussion. Custom software is unique in that it is created for a single client based on their unique requirements. For instance, in the hospital industry, the software may be created with the maintenance schedule and patient safety in mind.
This is distinct from the production of off-the-shelf software, which is more generic in nature and is not personalised and produced to order, as is the case with bespoke software. In-house developers typically create custom software, which is more expensive than any commercially available products. Based on features, usability, and performance, these breakthrough technologies differ significantly from one another.
Although developing bespoke healthcare software is more expensive than buying off-the-shelf items, you can obtain customization based on where you want to use it. It is usually preferable to go with bespoke software development than off-the-shelf software if you think your medical software needs a lot of customisation.