Travel
IMG Theme Park Tickets For Unlimited Rides
IMG Theme Park Tickets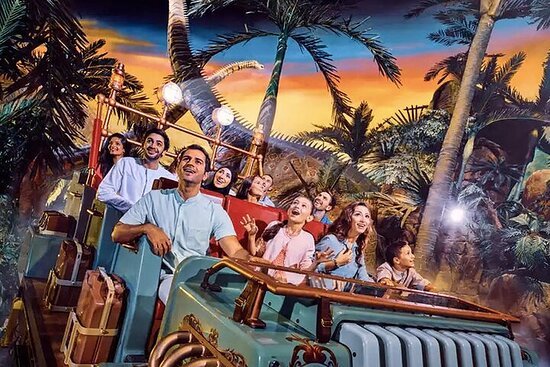 Embark on the adventurous journey to the IMG Worlds of Adventure and enjoy over 22 thrilling rides, and appetizing luncheons, purchase exciting merchandise and marvel at the awe-inspiring artworks. Get closer to having this experience by choosing the ideal offer for IMG theme park tickets.
The Universe of IMG Worlds of Adventure
Located in the City of Arabia in Dubai, UAE, the IMG Worlds of Adventure is 1.5 million ft2 wide. This indoor mega-themed park features different adventure zones. Each zone is dedicated to different concepts including Marvel Universe, Cartoon Network, Lost Valley, IMG Boulevard, The Haunted Hotel, IMG Kids Zone, and lastly the Novo Cinemas.
Each zone offers you fascinating rides where you battle with villains and have the most immersive escapade. Collect moments with cartoon characters that are closer to your heart. From spine-tingling roller coasters to thrilling rides, and stunning attractions, you can have it all with the purchase of IMG theme park tickets.
Adrenaline-filled IMG Worlds Rides You Must Not Miss
For adventure seekers and fans of various science fiction movies and cartoons, IMG Worlds of Adventure encapsulates everything. You can hop on adrenaline-pumping coasters and be a part of another universe to battle against villains. Here are the top rides that you must not miss.
Avengers Battle of Ultron
All the superheroes from the Marvel Universe come together at the Avengers Battle of Ultron to take you on the once-in-a-lifetime stimulating adventure in 4D. This ride is a famous attraction among MU fans and immerses you completely with its high-quality audio, engaging visuals, and special effects. You will be situated in a glass cabin with huge displays playing all the top action-filled fights against the villains.
Hulk Epsilon Base 3D
One of the most magnificent rides that you will ever experience in the IMG Worlds is the Hulk Epsilon Base 3D. With a projection view of 360 degrees, this ride offers a combination of 3D graphics and 4D audio. The dome offers a possibility of 100 seating and takes you on a ride filled with high-speed spins and whirls. With your IMG theme park tickets, you can immerse yourself in the adventures of the Incredible Hulk with the 600-meter-wide projection screen.
Velociraptor
A significant beauty of the IMG Worlds of Adventure is the Velociraptor. Enter the lost world of dinosaurs through the stunning launch station. The dinosaurs are showcased on a screen with a view of the jungle. Lasting up to 3 minutes, this exhilarating ride features a range of spine-chilling 360-degree vertical loops with thrilling drops and sharp jerks.
Predator
For every adventure lover, the predator is a thrilling drive with sudden bounces and stops. Get a spine-chilling experience as your ride moves through the unlit spaces. By Holding the capacity of up to 12 people, this ride begins like any other ride until you find the cart ascending an incline. You will find yourself propelling through vertical loops with a 90-degree heart-tingling plunge.
Restricted for individuals above the height of 125 centimeters, this will be once in a lifetime travel experience as you feel your heart hammering in your chest.
Powerpuff Girls
The powerpuff girls have been a part of everyone's childhood. Watching the girls fight off Mojo Jojo was one of the most exciting moments. You can experience the same excitement and thrill with IMG Worlds of Adventure's powerpuff girls. Hold on tight to your attraction straps as your power puff cabin flies you 360 at a high velocity with Mojo Jojo situated in the middle. This is one of the best rides for both kids and adults.
Ben 10 5D Hero Time
By getting the IMG theme park tickets, you can get the 5D experience. As your favorite Ben 10 characters battle against monsters and other evils. You will be able to relive your childhood with the Ben 105D Hero Time. You can be a part of a thrilling battle series and help Ben fight against his enemies.
Conclusion
The IMG Worlds of Adventure features the most amazing experiences one could ask for. Whether you are looking for a thrilling day out or going on vacation with family, there is something for everyone. With the best deal, you can get yourself on all kinds of amazing rides. From Marvel to Cartoon Network, amazing events and attractions, various kinds of eateries, and playing zones, IMG Dubai has it all.