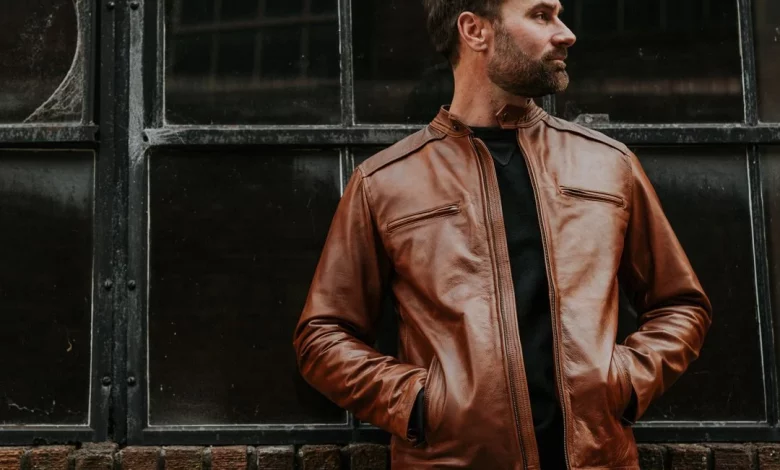 Although brown leather jackets have been a mainstay of fashion for more than a century, their history is far more complex than that of simply being a fashionable item of apparel. The Brown Leather Jacket Mens has its roots in the early days of aviation when pilots required a tough and warm outfit to wear while flying. While leather was known for its insulating and protecting properties in the early 1900s, pilots and other military personnel wore leather jackets throughout World War I. The leather jacket didn't start to become a common piece of clothing for civilians, however, until the 1920s.
THE INTRIGUING HISTORY OF BROWN LEATHER JACKETS
One of the first popular styles of leather jackets was the "bomber jacket". It was designed to keep pilots warm in the cockpit. These jackets were made from thick, sturdy leather. And had a ribbed collar, cuffs, and waistbands to keep out the cold air. They also had large pockets for storing maps and other flight instruments. During World War II, the brown leather jacket became even more popular among pilots and soldiers. And it was worn not only for its functional benefits but also as a symbol of bravery and heroism. The jackets were often adorned with squadron patches. And other symbols of military service.
After the war, the brown leather jacket continued to gain popularity as a symbol of ruggedness and masculinity. Hollywood actors like Marlon Brando, James Dean, and Steve McQueen all sported Mens Brown Leather Jackets in their films. Helping to cement the jacket's status as a symbol of rebellion and individuality. Brown leather jackets remained connected to youth culture and revolt throughout the 1950s and 1960s. They were frequently embellished with studs, patches, and other adornments. And were worn by rock and roll performers, motorcycle gangs, and beatniks. The jackets served as a vehicle for young people to show their individuality and defy social norms.
The brown leather jacket became to resemble a more fashionable and affluent garment in the 1970s and 1980s. Leather jackets started appearing in collections from fashion houses. improving and customizing existing fashions. Even after all these years, the jackets were still linked to disobedience and rebellion. Yet, they were now regarded as a mark of sophistication and good style. Brown leather jackets are still a common and functional item of clothing today. worn by both genders and individuals of all ages. It may be worn with jeans or a dress, dressed up or down. Also, it works for a variety of events.
IT REMAINED POPULAR!
One of the reasons why the brown leather jacket has remained so popular is its ability to evoke a sense of nostalgia and history. It is a garment with a rich and fascinating past, one that is intimately connected with aviation, military service, and youth culture. The brown leather jacket is also a representation of toughness and endurance. It is a piece of clothing that is made to last, withstanding the elements and daily wear and tear. It is a piece of clothing that has been worn by rebels and heroes, motorcyclists and pilots, movie stars, and fashion icons.
In recent years, brown leather jackets have been adapted to fit a variety of different styles and trends. For example, some designers have added shearling or fur collars and cuffs to create a more cozy and winter-ready look. Others have added embellishments like studs, fringe, and embroidery to create a more bohemian or western-inspired look. Despite these variations, the classic brown leather jacket remains a favorite among fashion enthusiasts. It has been featured on the runways of top designers and has been worn by countless celebrities and style icons. If you're looking to invest in a brown leather jacket, there are a few things to keep in mind. First and foremost, make sure that you're investing in a high-quality jacket made from genuine leather. Synthetic materials may be cheaper, but they won't last as long or look as good as real leather.
NEVER GO OUT OF STYLE!
Additionally, consider the style of the jacket and how it will fit into your existing wardrobe. A classic bomber-style jacket is a safe bet, as it will never go out of style and can be worn with a range of different outfits. However, if you're feeling adventurous, consider a jacket with unique details like fringe, embroidery, or zippers in unexpected places. When it comes to color, brown is a classic option that works all year long. Try experimenting with various brown hues, from dark chocolate to light cognac, without being intimidated. Additionally, whichever appearance you choose, the leather jackets we offered will allow your uniqueness to shine out. Don't think twice about trying different things with your edgy brown leather jackets; just do it!
In terms of care, it's important to treat your leather jacket with care to ensure that it lasts for years to come. Make sure to store it in a cool, dry place away from direct sunlight, and avoid getting it wet or exposing it to heat sources like radiators or fireplaces. If your jacket does get wet, allow it to air dry naturally and avoid using a hair dryer or other heat source. The hardest item of apparel in your wardrobe can be a leather jacket. Pick thick leather that is between 1.1mm and 1.3mm thick for rigid safety. The jacket should feel substantial in your hands when you take it. A leather jacket is the ideal layering piece as the temperature drops. It can be worn in the fall, in a moderate winter, and in the spring.
CONCLUSION:
In conclusion, the brown leather jacket is a timeless and versatile piece of clothing with a rich and fascinating history. It has evolved over the years to fit a range of different styles and trends, but at its core, it remains a symbol of durability, ruggedness, and individuality. Whether you're looking to channel your inner rebel or simply want a stylish and practical jacket, a brown leather jacket is a must-have for any wardrobe!