Do you want to add something stylish or colourful to your room, or is there a corner that just looks too empty? So, Think about adding one or two accent chairs to your room, or even just one. An accent chair is so much more than an extra sitting area. It also adds a touch of style and personality to your home. It could be just the thing you need to tie the decor together.
Color 
When deciding where to put the chairs, think about where you'll be sitting the most. Use an accent chair where it will be the focal point of the room or where it will give a dramatic touch. Having a single accent chair in a bold color or pattern can really make a room pop, especially if the rest of your sofas are muted.
Chair Style
What options do you have for seating? It doesn't matter what kind of chair it is, as long as it makes a statement when people enter the room. Try to choose a comfortable chair that stands out with bright colors, a streamlined silhouette, or a strong pattern.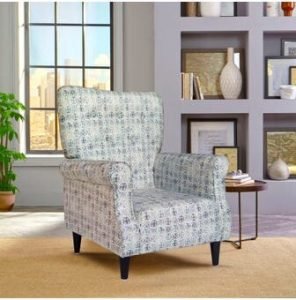 Placement of the Chair
What purpose does this chair serve? If you want to create a relaxing reading nook by the window, a plush accent chair is a must-have. Look for a chair with castors if you need mobile seating that can be moved around the space. A chair in a striking contemporary style is perfect if you want to make a statement with only a splash of color.
Highlight it Against Your Decor
Accent chairs are great since you may choose them without worrying about whether or not they will coordinate with the rest of your decor. The accent chairs must be eye-catching without being overwhelming.
Size
Adding an accent chair without considering the available space is a common mistake. The supplementary pieces of furniture shouldn't look out of place in the room, so make sure they're not too big or too small. When looking for new storage furniture, it's important to find pieces that are the right scale and proportion for your home.
Design
Comfortable chairs with interesting silhouettes and upholstery can make a significant impact on the overall look of a room. Add some levity to it, and that's even better.
You should choose an accent chair that makes you feel happy and expresses who you are. Think of the purchase as an investment and be willing to spend extra on a one-of-a-kind item.
Choose the Right Furniture
The success of your accent chair hinges on the fabric you choose for the seat and back. Luxurious velvets or delicately textured linens can be chosen if the piece is more for decoration than function, but if it will be used frequently, sturdy fabric is required. If you're looking for a striking piece, think of floral prints, stripes, checks, or solid colors.
Ideas for picking out chic seating—
Consider the space constraints when making your accent chair selection. A big, elaborate chair with a high back will not work in a small room.

The chair should be a focal point of your interior design and something you look forward to sitting in every day.

Check the seat height, depth, and backrest angle to make sure the chair is suitable for prolonged sitting.

Cushions made of velvet, silk, and brocade are a surefire way to make any room look luxurious.

Fabrics like chenille, cotton, and jute are durable and simple to care for. Beautiful with age, but high maintenance and cost might make leather an unattractive option.
To know more click here